It's an app. It's an e-book. It's a group. It's a game-changer. It's a lifestyle.
It's living with A.I.M. -- Awareness - Inspiration - Momentum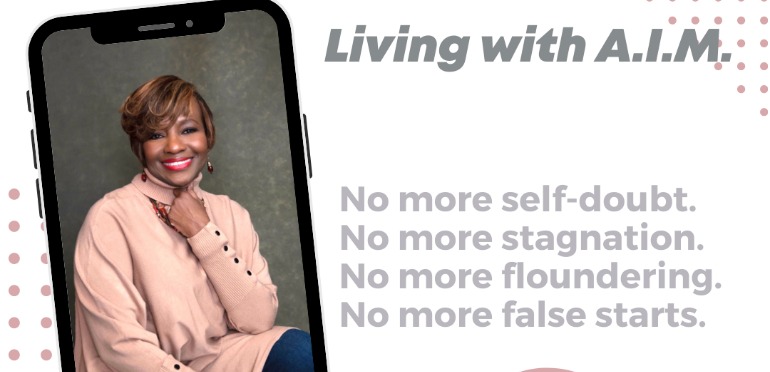 "Recognizing my values and my passions have helped me to see myself the way God designed me and now I have identified my purpose. There is confidence and freedom when you know who you are. I no longer look at my past as a barrier but as a part of the call. No more guilt, shame, and inadequacy...I know my worth and I am walking in the fullness of who I am. I am thankful for this new journey and I have to thank Living with A.I.M for helping me find myself and love myself. "

"The connection with others was refreshing and exciting. The material was on target and provided the nuggets needed to define my personal journey so that I can be positioned for impact. As the program continues and as I reflect on where I started, I understand [even more] why this and why now. Seamlessly, this program coincided with what I need and where I am to assist me on my personal journey of NEW while preparing for greater service."
"This program encouraged me to be more grounded and focused on developing the framework for my consulting business. For a couple of years, I felt very stagnant about my business, not really knowing how to build its foundation from the ground. However, Living with A.I.M. provided me with the skills and tools needed to not only develop its foundation, but also to take my business to another level. This program helped me formulate the true mission and vision of my business."